The Whitianga Volunteer Coastguard has a team of extraordinary volunteers who are giving of their skills, time and enthusiasm. And on top of that, the volunteers latest Coastguard Cadet programme is also nurturing education and training opportunities for young people in the Mercury Bay area. An intake of 10 senior students aged 15-18 from Mercury Bay Area school were recently welcomed on board the Whitianga Coastguard Alan Jackson Memorial Cadetship course.
---
Help us get the word out!
Sharing this article helps to support the local community.
---
The intensive 12-week course commenced in May and is coordinated and run by Whitianga Coastguard volunteers. It offers students the chance to gain life-skills including practical boat handling training and nationally recognised marine certificates.
This is the third intake of students from Mercury Bay Area School that we have had on the programme. Coastguard is a professional volunteer organisation with education as part of one of its core aims. We are excited to have a new bunch of students who are ready to work with our team to learn a range of marine skills. The course is already providing the Cadets with plenty of exciting learning opportunities and challenges.
– Jules Taylor, Whitianga Unit Administrator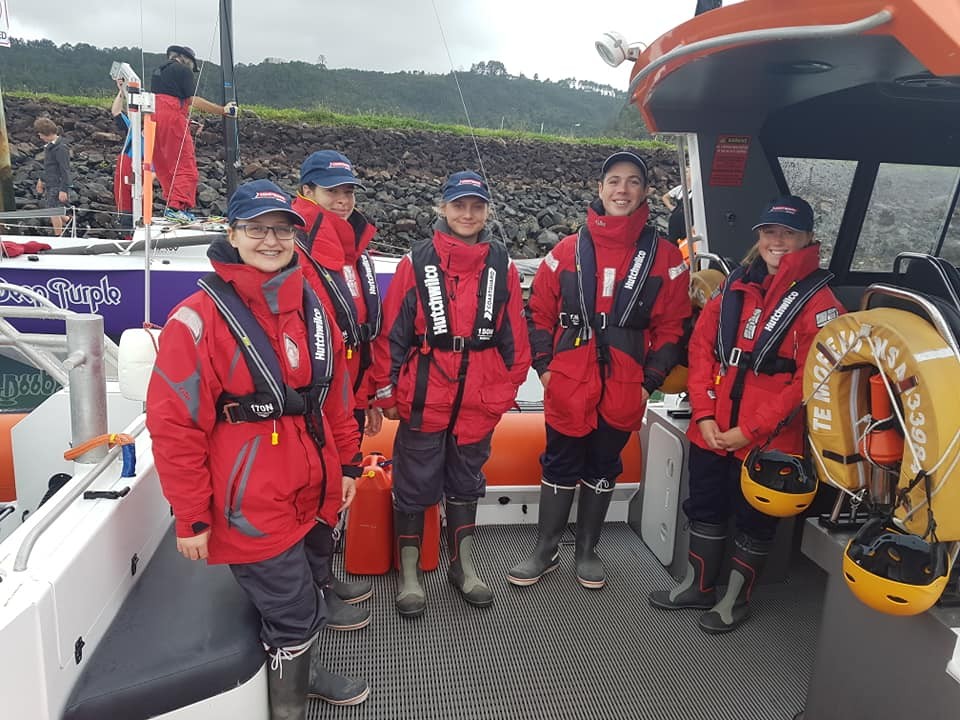 Pictured above: "starboard" Cadets – Caitlin Klouwens, Georgia Litherland, Aliza Niclas, Jack Fiddler, Elise Reader
Pictured at top of page: "port" Cadets –  Jack Williams, Kael Robertson, Bianca Anderson, Josie Fairweather, Amelia Cox, Skipper Peter Hari
A comprehensive learning programme
Over the three-month course, Cadets are being tutored and guided by a team of Volunteers from Whitianga Coastguard along with other professional tutors to gain experience of both the theoretical and practical sides of safe boating, health and safety, in-water survival skills, and search and rescue techniques.
As part of the course students have undertaken training in order to obtain formal qualifications in:
Marine VHF radio
Coastguard Day Skipper
First Aid
In Water Survival techniques.
The Whitianga Volunteer Coastguard training team
Volunteer Coastguard trainer Graham Caddy has been involved in each of the three Cadet training seasons to date. 
We're taking the student cadets to the threshold of the adult world where they are learning about actions, consequences and responsibly. By the end of the three-month course cadets will have learnt invaluable boating and life skills and will have reached a Coastguard trainee level. To get to this end point there is a lot of work that we're doing. Cadets are learning to follow protocols, be ready and present for each session, and we're all building a level of trust together as a team.
– Graham Caddy, Whitianga Volunteer Coastguard Vice President and Cadet Trainer
 
The local Coastguard Cadet training team contributes over 200 hours to this student programme. It's supported by ordinary people doing extraordinary things and the trainers include the following volunteers:
Stuart Brown - President
Graham Caddy - Vice President, Operations Manager and Cadet Trainer
Peter Hari – Coastguard Skipper and Cadet Trainer
Peter Head – Coastguard Boating Tutor and Maritime Officer
Martin Little – Coastguard Operational Crew and Cadet trainer
Stu Lowth – Meditrain First Aid and Inwater Survival trainer
Jules Taylor – Coastguard Unit Administrator and Cadetship organiser
Dana Ohlson – Cadetship Youth Liaison Officer.
Want to get involved with Coastguard?
Whitianga Volunteer Coastguard is a charity with the purpose of saving lives at sea, marine search and rescue and safe boating education. They have a membership of over 1100,  20 Wet crew and 10 Radio Operators.  For more information and to get involved follow the related link at the bottom of this page.