2020 was certainly not business as usual! All About Whitianga Sales and Business Development Manager Cathy Klouwens explains what was made possible on the All About Whitianga digital marketing platform and how the team helped keep their business customers connected to online audiences throughout the unusual year that was 2020.
---
Help us get the word out!
Sharing this article helps to support the local community.
---
Covid-19 pandemic and lockdown or not, it was an incredibly busy year for what proved to be a very agile team managing the All About Whitianga website. Highlights include:
excellent new website features to benefit business customers
unique business status tags developed for the All About Whitianga website during the Covid-19 national lockdown to keep businesses connected to their customers
record audience views of the All About Whitianga website
important milestones including celebrating seven years of service to the Mercury Bay community.
Growing our team and our capacity
From two to three. We were excited to have Kat Neilson-Jones join us in February 2020 (six weeks before lock-down). Her extensive all-round skills in administration, project management and customer service are a valuable asset to the All About Whitianga  team. As a result we are serving our customers and our community in new and better ways .
A team effort in a year like no other
Like many small businesses the All About Whitianga team faced our version of 2020 worries, challenges, triumphs, delights and moments of reflection. We pivoted and raised our collective agile hands up with vigour to borrow a few Covid-19 cliches!
Our team tackled new challenges head on fueled by a fair amount of caffeine and worked closely with our business customers to 'support local'. We put strategies in place to outpace the negative effects of Covid-19 and quickly built on the opportunities that presented themselves. We moved with speed, sometimes breakneck to implement change when necessary which highlighted there is certainly no 'death by committee' on the All About Whitianga team.
In 2020 our daily lives, community and business operations were impacted in ways that we had never experienced before. The impacts of the Covid-19 pandemic showed us where our promotional services were most resilient, and where we needed to change our focus. I was personally very proud of the drive and 'go-to' attitude of our team. I was reminded how wonderful our community is, and grateful for the strong relationships we have with our business customers.  
Cathy Klouwens, All About Whitianga Sales & Business Development Manager
The team celebrating All About Whitianga seven years online. Pictured: Kat Neilson Jones, Dean Klouwens and Cathy Klouwens. 
All About Whitianga 2020 Snapshot
Here's a snapshot of what the All About Whitianga website and team achieved to benefit our customers and to reinvigorate and grow our business into the future.
Record online views
In the last 12 months All About Whitianga had:
300,000+ views from local and domestic consumers
in December 2020 we reached 1.8 million views since the site was launched (October 2013)
overall a 35% increase in website views compared to the same period last year
a whopping 65% increase in views for the month of  May 2020, compared to May 2019
consistently ranking number one and achieving top rankings for organic keyword searches in Google
key viewing audiences from Waikato, Auckland and Bay of Plenty.
Results for our business listing customers!
All About Whitianga is keeping business listing customers connected to a significant online audience.
New cutting-edge business listing page features
Our team undertook a complete refresh to the look and feel of the All About Whitianga digital marketing platform – this included new categories to reflect the diversity of new businesses moving to Mercury Bay and new listing page features: 
new business listing layouts designed to encourage customers to connect with you
introduction of new categories that reflect the diversity and growth of Mercury Bay businesses
real-time business opening hours
social media buttons to share your All About Whitianga page to Facebook and Twitter with a simple click
related links so you can network with your local business mates pages
a favourite button for your customers to tag their love to your business
measuring page performance – know your return on investment by seeing how many individual page views, email, phone and website clicks your listing is getting
customer reviews 
proximity searches in restaurants, things to do and accommodation – showing what's nearby
menu widget for cafes, restaurants and pubs.
Results for our business listing customers!
We've packed each of our customer's business profile pages with a huge amount of added value and functionality to assist with google ranking. And naturally business pages are responsive to different device sizes such as cellphone, tablet, or desktop with key information prominently displayed where it's most important.
We created a unique visual Covid-19 alert level status for customers
As March lock-down approached, our team went into overdrive and developed backend functionality so that we could activate special Covid-19 tags and visuals onto the front-end of the All About Whitianga website to show viewers what alert level our region was currently operating in and how each of our business customers were able to operate such as being:
an essential service
available for enquires
offering takeaways to collect 
contactless delivery
and providing online shopping services.
Our team contacted all of the businesses that advertised with us to see which alert level tag they would like to be placed against.
Results for our business listing customers!
Resulting from the additional functions put in place during the lockdown period we achieved a record numbers of views to the website. The month of May 2020 had an increase of 65% online views compared to the same month in the previous year!
Keeping your businesses connected to your customers is a priority and we're proud to have achieved this.
Measuring performance – your return on investment is easy to track
In mid 2020 our team invested in smart technology that allows each of our business clients to easily see how many:
individual business listing page views they've had
clicks on their phone, email and website button they have had for the month to date as well as overall totals since mid 2020
Results for our business listing customers!
Each business listing customer has access to specific statistics for how their profile page is performing for them.
Supporting and growing the capacity of our local community via Sponsorship
Our team continued to support volunteers and not for profits who put so much of their own time into our local community. An overwhelming number of our local business owners are also a part of this volunteer community.
We're proud to sponsor 100+ community listings, promote not for profit fundraising initiatives and a raft of event promotions in our Mercury Bay News  and Mercury Bay Events sections – valued at over $84,000 for the year of 2020.
Results for our business listing customers!
Our team have developed valued relationships with the volunteer, not for profit and event sectors of the community. We've connected businesses to community group fundraisers and efforts. We're proud to raise the online profile of our community groups and to contribute to the community development and economic growth in the Mercury Bay.  
New office location
The team settled into our purpose-built office at 5 Eyre Street which can also be accessed via the section at 15 Albert Street, in the hub of Whitianga. Our new digs offer a fantastic space for our team to collaborate and for our customers to meet with and  plan their online digital marketing strategies over a cup of coffee. This place really is a space that we love to be in and a hive of activity!
Getting more social on the socials
In 2020, the All About Whitianga team became more "social" with our social media channels. We increased our presence on Facebook and tailored our brand to engage with our general and business audiences. Our social media strategy includes regular business customer features, shout outs and referrals back to our customer's business profile pages  on the All About Whitianga website. A new business Facebook page was developed to connect, support and share with business owners.
Follow All About Whitianga on Facebook: 
Results for our business listing customers!
Include increased:
engagement with the All About Whitianga brand
following on our social media channels
referrals back to the All About Whitianga website
visibility for business customers and business categories we promote via our channels.
Mercury Bay News – relevant quality online news  
The development of more news categories and a complete refresh of the popular Mercury Bay News section on the All About Whitianga website has provided more scope for a range of engaging evergreen articles. Mercury Bay is attracting significant viewer attention!
Mercury Bay News articles are exclusively published on the All About Whitianga website and offer our business clients:
excellent evergreen content that remains accessible  over time
increased exposure via bespoke articles written about them
a link to their All About Whitianga business page
an opportunity to share their expertise and skills in helpful articles that can attract new customers.
Mercury Bay News has excellent organic ranking in keyword google searches and is a significant growth area of visitor views to the All About Whitianga website. Importantly it provides a new avenue for businesses, community, events and partners to share their stories.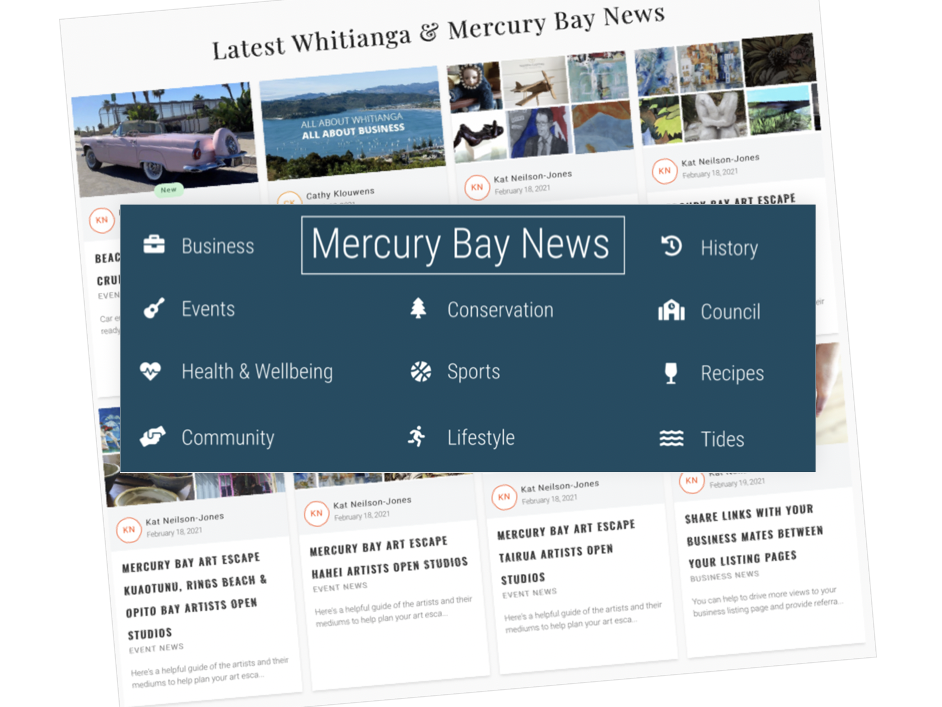 Using the rise of the video star to engage audiences
It's no secret that the power of video can't be ignored. The average engagement rate for Facebook video posts is higher than static images and video focused YouTube and Vimeo are also very popular video channels. For that reason every All About Whitianga business and events page can now embed YouTube or Vimeo footage on their profile pages.
With this in mind we got busy filming video snippets. Planned or impromptu, serious or a bit of fun, we discovered hidden talents behind and in front of the camera.
Results for our business listing customers!
Lights, camera, action – we've been creating and editing video snippets to engage viewers for local, business features, events, handy tips and tricks so now our business listing customers have another tool in their online toolbox to use on the All About Whitianga website digital marketing platform!
Contact the All About Whitianga team
For more information, or to get in touch with the All About Whitianga team use the related link below.